Over and under the sea
We leave every day at 10am aboard our motorboat, the Andrea Padre and Dea, from the Banchina Dogana, across from the old city walls and the Garibaldi tower, in the port of Alghero; sailing along the coast of the so-called Coral Riviera, passing by Capo Galera and Punta Giglio, we reach the promontory of Capo Caccia, where we see the beautiful set of steps known as the Scala del Cabirol leading to Neptune's Caves, with their sea-level entrance.
Moving ahead, we catch sight of the spectacular Isola Foradada, with its enormous hollow section, as the sunlight playfully glints off it. The breathtakingly eroded Cala d'inferno marks the farthest point of our journey. Returning past the belvedere of Capo Caccia, we enter into the bay of Porto Conte, where – having taken in the Madonnina del Fruntuni – we make our first stop-off, at Torre del Bollo, at around 12pm.
Here you can dive into the sun-kissed waters to your heart's content, or indulge in some snorkelling (with mask, snorkel and flippers) amid the beautiful fish of the wonderful Porto Conte National Park and the Capo Caccia/Isola Piana Marine Protected Area.
At 1pm, you will be served up a delicious lunch of local cheeses and sausages as a starter, followed by pasta with fresh-crab sauce and then cozze alla marinara (mussels), accompanied by water, local wine and coffee (if you require a non-fish or vegetarian menu, please let us know in advance).
In the afternoon, we depart for Cala Dragunara, Tramariglio beach and El Faro, before reaching Capo Boccato (at Punta Giglio). We then return to port at 6pm
Itinerary
During the day we visit the entire coral coast, Portoconte Park and the Protected Marine Area of ​​Capo Caccia Isola Piana, the stop is in bays sheltered from the wind and sea where the water is crystal clear and shallow.
On board we have buoyancy aids for children and adults. To bathe there is a comfortable ladder for getting off comfortably and without necessarily diving.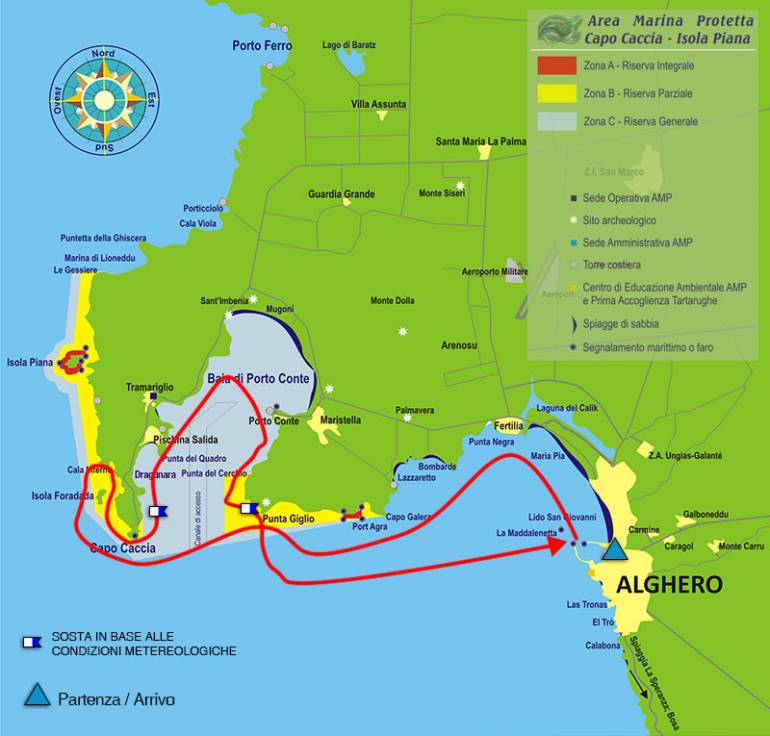 PRICE LIST
Boat trip from 10:00 to 18:00 with full lunch on board.
(including water and wine)
€ 75,00
Supplements
Snorkeling equipment supplement (mask, snorkel and fins)
€ 10.00
Scuba diving test supplement (Baptism of the sea)
€ 40.00